Winnifred Kathleen "Winnie" Benedict
birthname: Winnifred Kathleen Weber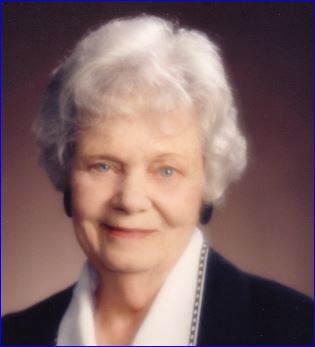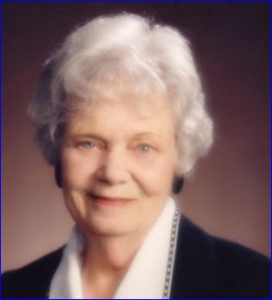 Born: 11 August 1911 at Rosenfeld, Manitoba
Married: 18 April 1935 at Calgary, Alberta to Albert Charles Benedict
Died: 20 Jan 2003 (age 91) at Calgary, Alberta
Buried: Queen's Park Cemetery, Calgary, Alberta, plot K:02A:260
Family Tree: Winnifred Kathleen Weber in Family Genes
Contributor: Jim Benedict
The Early Years
My mother's maiden name was Sarah Isabella Acheson, was born in Clinton, Ontario, she came from a family of four girls and three boys.  My grandfather, Alexander Acheson, a teacher, founded the village of Rosenfeld, Manitoba in 1892.  In 1910, Rosenfeld chose all the streets  to be named after members of the Acheson family.
Londonderry and Donegal, Ireland, are the birthplaces of my mother's parents.  My mother and her two sisters attended public school in Rosenfeld,
Today, June the 24th is the St. James the Baptist day.  Mom then attended business college in Winnipeg, graduating from the Winnipeg Business College in 1902.
My dad was born in Alsace-Lorraine, France and came to Hanover, Ontario as a baby, the end of the seven children.  He came to Rosenfeld as a grain buyer in the early 1900's.  And as a lacrosse player, he played with the Souris lacrosse team who won the Manitoba championship in 1905.
Mom and dad were married in Rosenfeld, December 5th, 1909.  I was born August 11, 1911, the oldest of eight children, five girls and three boys.  From Rosenfeld to Winnipeg in 1918, to Calgary in 1923.  They all loved Calgary with the mountains and chinooks.  Winnipeg was so cold and the summers so hot.
To contain eight children in the 1920's, '30's was no small challenge.  I graduated from Dartmouth Business College in 1927 and entered the workforce working for a firm of lawyers for thirty dollars a month.  In the dirty thirties, that pricing was very evident, and I was lucky to have a job. The "railroad" family survived.
There were so many happy memories of the warmth and kindness of neighbours.  We were all in the same boat – poor.  In order to have a phone you had to be in business.  My dad was in the decorating and painting business so he had a phone and a car, an old Mclaughlin Buick touring car with isinglass curtains.
Both car and phone to all the neighbours.  We never locked our doors.  Mrs. Bryan, who lived across the road from us really appreciated both car and phone and she had nine children during a residence at 2202 16A street SW.
Softball Sports
"Winnie  Benedict has a plaque and certificate enrolling her in the Alberta Softball Association Hall of Fame.  This recognition was for her great arm as a catcher and hitter on Parkhill Baseball Team, 1930-1936. Standing only five feet, Winnie never let a ball past her and could wing it to any point in the diamond without a lost movement; the same speed and coordination that our father [Rusey Webber] had in any sport he undertook. The day after a game, she would often turn up for work with damaged fingers, well-taped so she could hammer at the old heavy manual typewriter in Lawyer Moyer's office. The lawyer didn't mind. He himself was a sportsman and was one of a group, instrumental in bringing the first artificial ice rink to Calgary. He often went to a Parkhill Ball Game because he found Winnie a thrill to watch, whether catching or hitting."1
Winnie and Albert
I met Albert Benedict in 1930.  We were school chums.  He was from a family of six boys and two girls.  His father came to Calgary in 1893 from Wallaceburg, Ontario and his mother, Agnes McPhail, came to Calgary from Frank, BC, with her family, survivors of the 1903 Frank Slide.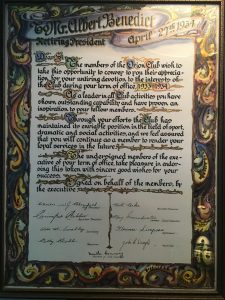 I was 18, going on 19 and Albert was 20, going on 21.  Every day, we met young people in our district who would attend the dances at St. Marks and ??? in south Calgary.  We all decided to form a social club.  The Orion Club was born with a membership of over a hundred.  They eventually rented the top floor of the North-West Travellers Building on Sixth Avenue and First Street East, for twenty dollars a month, which included heat, light and elevator service.  Its elevator was out of commission.  We walked up three flights of stairs.  We had our own drama club, hockey team … a lot of lasting friendships were formed, and a great number of marriages resulted.
Albert and I were married in Church in Scarborough United Church in 1935.  A dance and reception followed attended by all members of the family, neighbours and friends.
Albert was a printer and worked for Central Press Company, a company established in Calgary in 1902.  In 1946 he purchased the plant and I became a bindery girl, bookkeeper, etc.
Our marriage lasted forty-eight and one-half years.  Albert passed away … 1983.
Who's That Sitting in our Family Tree?  Narrator: Gertrude  [Webber] Lawrie; private pub. 1988; p. 121 [↩]